From the Wikipedia page [1]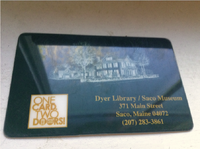 The Dyer Library is the main library and museum in Saco, Maine, United States. It was founded by Olive Dyer in 1881, and has remained opened since. It currently is right across from the Saco Museum, which are in an agreement together. Using the library card allows free access to both locations, which is free to all Saco residents.
The website is [2].
Ad blocker interference detected!
Wikia is a free-to-use site that makes money from advertising. We have a modified experience for viewers using ad blockers

Wikia is not accessible if you've made further modifications. Remove the custom ad blocker rule(s) and the page will load as expected.